Hambagu is a term used by the Japanese to refer to a hamburger. This word refers to hamburger steak, including western food that was adopted and modified into a popular culinary delicacy in Japan.
This Hambagu is usually made from a mixture of beef and pork. But this time we will learn how to make a hambagu steak with only beef as the base ingredient.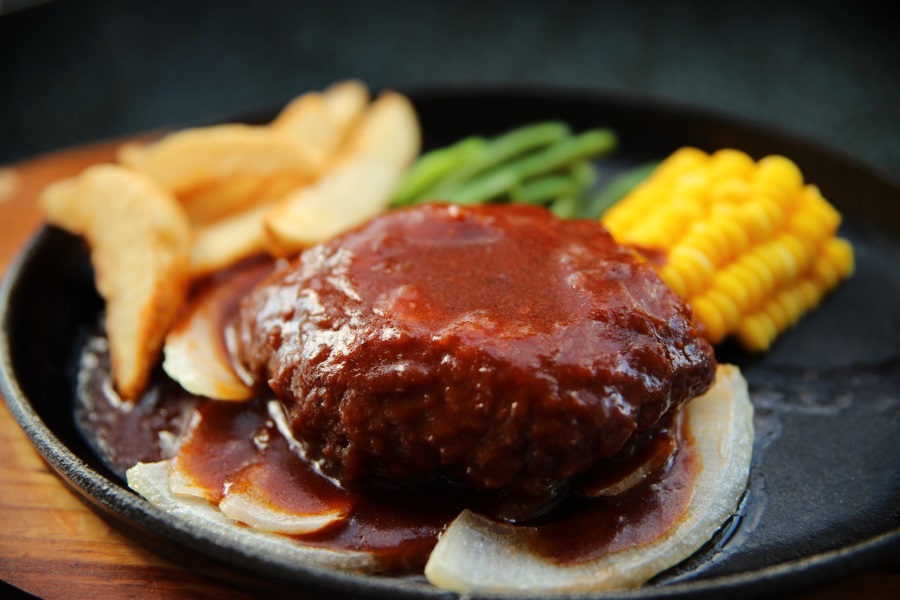 Ingredients
Hambagu Patties:
350 grams of ground beef
20 grams of panir/panir flour
2 tablespoons of liquid milk
1 egg
1 tablespoon vegetable oil
1/2 onion, diced
1/2 teaspoon salt
1/4 teaspoon ground nutmeg
ground pepper to taste

Ingredients for Frying Patty:
1 tablespoon vegetable oil
4 tablespoons of broth

Hambagu Sauce:
1 tablespoon unsalted butter (unsalted butter)
3 tablespoons of tomato sauce
2 tablespoons Worcestershire sauce
3 tablespoons of broth
3 tablespoons of water
How to Make Hambagu Steak:
1. Firstly Heat the vegetable oil, and saute the sliced ​​onions until fragrant. Remove from heat and set aside first.

2. After the First Step, Mix the onions with ground beef, milk, salt, pepper, eggs, panir/panir flour, and nutmeg. and then Stir until it becomes a sticky dough.

3. The hand makes 4-6 patties. Press and compress so that it does not break when fried. After that, wrap it in plastic and keep it in the refrigerator for 1 hour.

4. Heat the vegetable oil, then fry the patty until browned on one side. When browned, turn and cook the other side until it is brown too. Press the middle so that it is cooked. Cook the patties one at a time so they don't break.

5. Enter the broth, then reduce the heat. Cover and cook for 3-5 minutes, adjusting the thickness of the patty.

6. Use the remaining liquid in the patty pan to make a sauce. Melt unsalted butter, then add the tomato sauce, Worcestershire sauce, and stock. Cook over low heat until the sauce is bubbling.

7. Serve the hambagu steak on a plate, then pour the sauce to taste.
As a complement, you can add mashed potatoes (mashed potatoes) and half-cooked vegetables. For example green beans, broccoli, and carrots.